Doggy Day Care Centre
We care when you can't be there
We all know dogs need mental and physical stimulation and that many behaviour problems such as chewing your favourite things, barking at your unsuspecting neighbours, digging holes in your lovely garden, etc, are sometimes the result of boredom, being lonely or not receiving enough exercise.
Unfortunately for our much loved pets, it is not always as easy for us to provide these things as often as needed, due to long hours and awkward shifts at work or health problems.
Our services are designed for owners who are out at work all day, or unexpectedly called away from home, are elderly, hospitalised or have other commitments, even expectant or new mums with their hands already full. We offer a safe, friendly and
reliable solution for you.
Energetic members of our pack are kept entertained with agility, fun games, play, sand pits, ball pits, climbing frames and tunnels in our designated play areas. During the warmer months we add sprinklers, a swimming pool and paddling pools too. We have separate play so that our youngest pups can explore and learn plus extra comfort for our golden oldies to enjoy.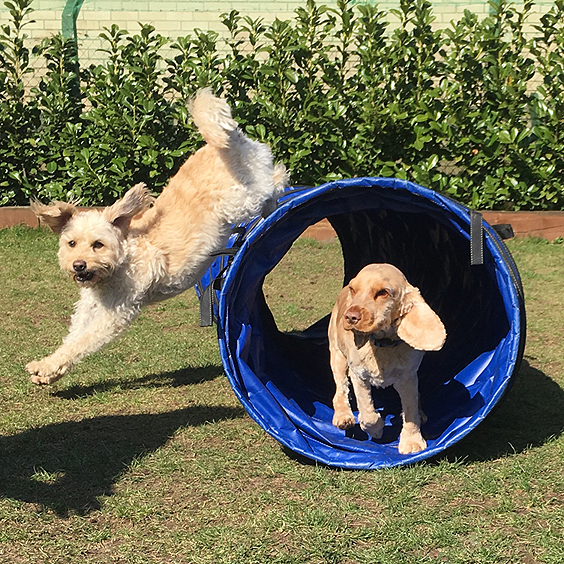 Doggy Day Care Centre Prices per Day…
£25.00 for one dog per day
£45.00 for two dogs per day from same house.
+ £20.00 for any additional dogs from the same house.
Please call to make an appointment as all dogs must be assessed before being left at the day care.
Please bring proof of all vaccinations or Titre test result as they must be provided prior to enrolment of your dog(s).
Please give 24 hours notice before bringing your dog(s) to Day Care and (where possible) any cancellations as you may still be charged.
Payments
Payments must be made in full up front.
All funds must be cleared before you dog(s) are left in our care.
Payments accepted by Cash, Cheque or BACS (We currently do not accept Credit or Debit Cards)
Cheques made payable to 'Mischief'
Any problems you may have with your dog's behaviour could become better over time with regular exercising, stimulation and socialisation. We hate to refuse any dog but some behaviour is not acceptable, a meeting with you and your dog should aid us in a decision to find the best solution for your pet.
If in doubt about your dogs behaviour, you should always consult a professional before proceeding with any discipline or training.
CONTACT
Unit 3, 85 Gregory Road
Mildenhall Industrial Estate, Mildenhall,
Suffolk IP28 7DF.
 T: 01638 711641